Orhideea Residence & Spa, the largest Aparthotel and Spa in Bucharest, signs landmark agreement with ALLCOT to measure its carbon footprint and offset its emissions
Press Release, Bucharest, 1 October 2015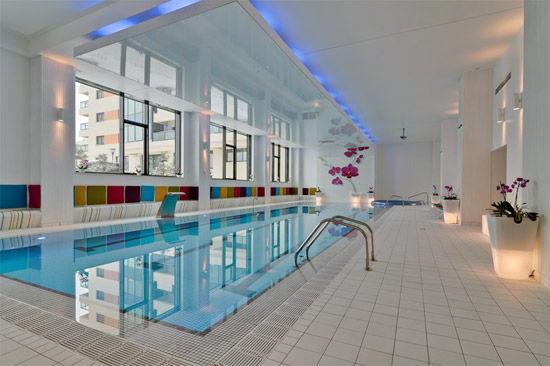 Orhideea Residence & Spa, the largest aparthotel and spa in Bucharest has signed a two year agreement with ALLCOT to measure and offset its annual carbon emissions.
In 2014, it was responsible for generating 418 tCO2e (metric tonnes of carbon dioxide equivalent), mainly from heating and electricity consumption. Measuring its footprint and offsetting its unavoidable greenhouse gas (GHG) emissions is a part of its wider sustainability strategy, which has already involved the replacement of incandescent lightbulbs with low-energy LED units; improved waste sorting and reduced paper usage. Together, these actions make it one of Romania's leading sustainable hotel and spa complexes, with 15kg tCO2e per night, which is less than half the Romanian national average of CO2 emissions for hotels.
"This CO2 emissions reduction target is a part of our policy to increase our guests' comfort. Orhideea Residence & Spa is the largest aparthotel and spa in Bucharest. The smallest apartment is around 100 sqm and the largest more than 300 sqm. For responsible guests, the sheer size of these rooms can be intellectually uncomfortable. However, when you know that your business or holiday-related carbon footprint was offset by the hotel in collaboration with ALLCOT, then your stay at our hotel becomes more attractive. Therefore, I choose to invest in sustainability through ALLCOT and offset carbon emissions from Orhideea Residence & Spa to help guests think deeply about preserving our planet, but also from an "avant-garde" spirit. The ALLCOT sustainability program inspired me to follow their lead and make our hotel sustainable," says Dragos Penca, Executive Director at Orhideea Residence & Spa.
The project chosen by Orhideea Residence & Spa to offset its unavoidable GHG emissions is a UN forestry project that protects standing forest and the indigenous flora and fauna.
The carbon neutral strategy of Orhideea Residence & Spa has been implemented in Romania with the help of Carbon Expert, which is the official ALLCOT partner for Eastern Europe. The projects promoted by Allcot and Carbon Expert are recognised by the United Nations and verified by third independent parties, such as Tuv or Lloyd Register. Allcot sustainability program promoted in Eastern Europe by Carbon Expert provides management solutions to increase energy efficiency and reduce CO2 emissions.
"Our projects for economic operators in Eastern Europe to voluntarily reduce the pollution are the precursor of the UN international politics of compulsory reduction of CO2. What today is voluntarily achieved at minimum costs, tomorrow will be mandatory at much higher costs. The most convincing example is given by big Romanian polluters: power plants, cement factories, etc., which have voluntarly implemented various technologies against pollution at lower costs before entering into the manadatory EU ETS, compared to operators, which have made this transition under the pressure of governmental penalties at the last moment. One thing is clear: the polluter pays. We come up with solutions to reduce these costs", says Casiana Fometescu, Carbon Expert.  
"ALLCOT is delighted to be partnering with Orhideea Residence and Spa on their sustainability journey that is targeting zero emissions with reduced operational costs. Entering the Romanian market is a clear strategic objective of ours, so this collaboration is very exciting for us to be involved with.'' Alexis Leroy, CEO, ALLCOT