The ICE exchange from London currently trades as follows:
EUA spot:  € 8.44
EUA Dec '15 futures: € 8.52
CER Dec '15 futures: € 0.58
Brent Crude spot: $ 40.79
German Power '2016: € 28,60
The International Climate Negotiations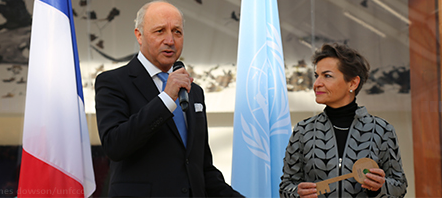 The UNFCCC COP21 in Paris is currently on the second week of climate negotiations (30 November – 11 December 2015).
The EU today retained its formal position that any global climate deal to be reached in Paris next week should be legally binding, while acknowledging that it was "looking for solutions" with negotiating partners.
One of the central obstacles to a deal is that the US delegation will not accept legally binding greenhouse gas (GHG) mitigation targets as it knows congress would not ratify any agreement that imposes such a requirement. Despite this the EU has not yet formally changed its position to compromise on the issue, although representatives of the EU delegation today acknowledged that a strong deal could still be achieved without legally binding targets.
Source: Argus Media, London