Carbon prices resumed the upward trend last Monday, 06.05.2019, after the previous week's brief collapse soon after the compliance period ended. Trading activity started off to a good start selling at a €25.50 high for the day. Tuesday carbon gained 4.2% to reach €26.40 as strong buying at the auction drove up prices. The rally continued all through to Wednesday, testing the €27 barrier by rising 1.9% to €26.95.
The week's rally did not last much and carbon slight lost value the next day to close down 1.6%. This did not stop it from breaking the barrier and trading well above €27 to a €27.20 high for the first time this month. Prices have been retracing since then, falling 3.3% on Friday, 10.05.2019
This week overall effect of the volatility has been to keep EUAs in a relatively well-defined channel between €24.50-27.50 since the middle of April. The recent sideways evolution of the market suggests traders are waiting for tomorrow's TNAC announcement before initiating any longer-term positions.
It's likely that the data will mean the MSR takes in a larger than expected volume of EUAs over the coming year due to the lower verified emissions for 2018. Consequently we retain a flat to bullish outlook for today, with a bullish expectation for Thursday as the market digests the information.
Today's EUA chart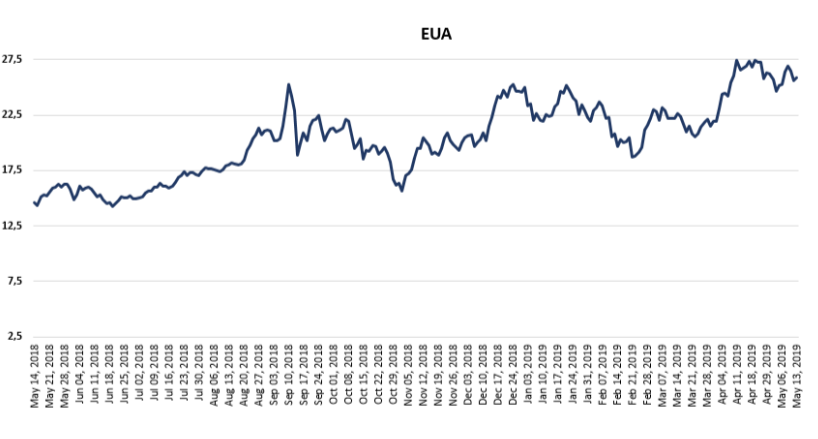 Source: AitherCO2 and Carbon Reporter, London