The ICE exchange from London currently trades as follows:
EUA spot:  € 8.61
EUA Dec 15 futures: € 8.63
CER Dec 15 futures closed: € 0.60
Brent Crude spot: $ 46.76
German Power Front Month (Nov. 15): € 34,68
Paris International Climate Change Agreement
If all countries meet the goals outlined in their pledges in the run up to the Paris Climate Summit, growth in energy-related emissions– which account for two-thirds of total greenhouse gas emissions –will slow to a relative crawl by 2030.
A Special Briefing was released this week by the International Energy Agency (IEA) on the energy sector implications of national climate pledges (known as Intended Nationally Determined Contributions or INDC's) submitted for the upcoming climate summit in Paris (COP21).
"The fact that over 150 countries – representing 90% of global economic activity and nearly 90% of global energy-related greenhouse gas (GHG) emissions – have submitted pledges to reduce emissions is, in itself, remarkable," said IEA Executive Director Fatih Birol.
"These pledges, together with the increasing engagement of the energy industry, are helping to build the necessary political momentum around the globe to seal a successful climate agreement in Paris"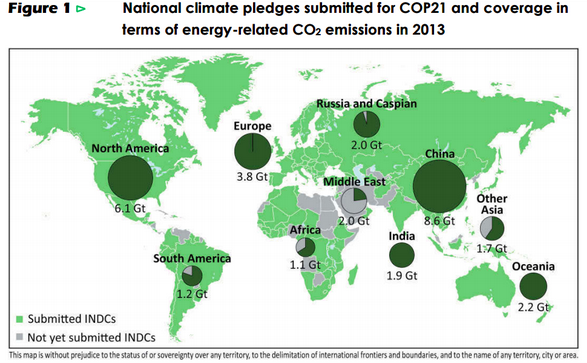 Source: Globe Net, October 2015